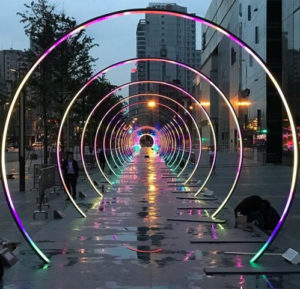 SJCO Everywhere
Rescheduled due to rain:
Monday March 5, 2018 | 6-7 pm
Catch SJCO violinist Philip Brezina playing everything from Bach to Bluegrass in the Sonic Runway, San Jose City Hall's installation from Burning Man that responds in light to the sounds produced in the runway. FREE and definitely UNIQUE!!!!
Announcing Our 2018-2019 Season
Wednesday March 7 we will announce our 2018-2019 Season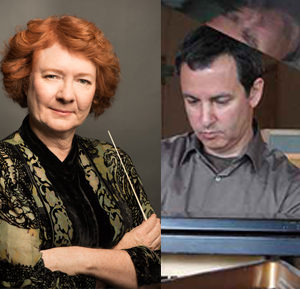 SJCO Everywhere
Friday March 16, 2018 | 12:10 pm
Noon Arts and Lectures
First Unitarian, 160 N. Third Street, downtown San Jose
Suggested $5 door donation
Join SJCO conductor Barbara Day Turner and composer William Susman in a look at the inner workings of SJCO's unusual March 25 concert "A Touch of Tech".

A Touch of Tech
Sunday March 25, 2018 | 7 PM
Barbara Day Turner, conductor
featuring cellist Coleman Itzkoff
Join us for a truly unique concert experience. The San José Chamber Orchestra presents a multi-faceted evening of musical works that have connections with technology and/or ecology by celebrated American composers William Susman, Vivian Fung, Judith Shatin and Thea Musgrave (celebrating her 90th birthday with us!). SCU mathematics professor Frank Farris'  mathematical art and the exciting young cellist Coleman Itzkoff have a hand in the proceedings too.
Melody and rhythm meet algorithms, melting glaciers and electronic interventions.
Humanoid for cello and pre-recorded electronics – Vivian Fung
Co-commissioned by the San José Chamber Orchestra, Manhattan Chamber Players, Arts on the Ave.,
International Contemporary Ensemble, Rachel Mercer, and Astral Artists.
Ice Becomes Water for string orchestra and stereo electronics – Judith Shatin
Commissioned by the San José Chamber Orchestra (premiere performance)
Green by Thea Musgrave, on the occasion of her 90th year
In a State of Patterns by William Susman, after the mathematical art of Frank Farris
commissioned by the San José Chamber Orchestra (premiere performance)
Buy Tickets